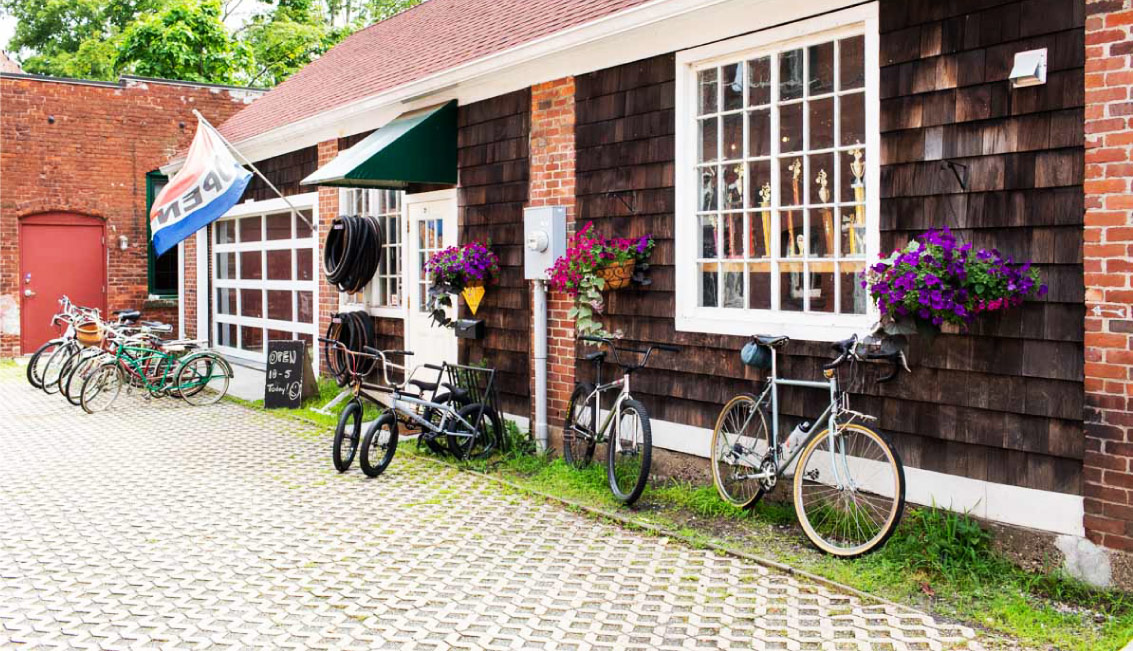 After 12 years, we're still doing what we set out to do: selling, fixing, and riding bikes for the sheer joy.

We're dedicated to the love of wheels, serving the everyday biker, BMXers, commuters, kids, and families throughout the Pioneer Valley.

We offer the very best service — rooted in generations offamily-owned businesses.
Our skillful sales & service team
Zachary Sawmiller
Mechanic
"I own one of every derailleur campagnolo ever made."
1975 Masi Gran Criterium
Schwinn Pro Stock 31980
Eddy Merckx Professional
Jason Graves
Owner · Founder · Artist
"Bike-lover, dirt-digger, UMASS art grad."
FBM Steadfast
Transition Scout GX
95 Schwinn Pro Modified
Zach Andrega
Trail & Pump Track Design
"I like to dig as much as I like to ride."
Nebb Woods Bike
Standard 125R
Credence Black Magic
Elijah Hammerlund
Sales & Service
"I buy and sell a new bike every week. I have a bit of a bike problem."
Evil Following V1
Evil Wreckoning
Evil Following MB
Chris Rodriguez
Sales & Service
"I can ride a unicycle."
1980 Schwinn Paramount
1990 Giant Rincon
2000 Trek 7000
Burke Warren
Sales & Service
"The fastest, most polite Enduro racer around."
Trek Slash 29
Kona Stinky 24
Haro Shredder 12
Get to know our community
A shared history of wheels
LATE 1800's
Wheels are in my blood – my family opened a carriage shop in the late 1800's.
EARLY 1900's
When carriage wheels gave way to tires, my great-grandfather openeda car dealership in Williamsburg, MA.
1940's
By the time my grandfather took over the business, Chevrolet had replaced Ford (ask us to tell you the story).
1970's – 1980's
My father's passion was in collecting and repairing cars he loved. I grew up around a 1910 Stanley Steamer and '56 Chevy Corvette.
1980's
I will never forget my joy when I practically flew on my first BMX bike. There's nothing like it! That led to my first motocross race and my great love for wheels.
2007
We want that joy for you and yours. Founded in 2007, our bike shop's name, Full Circle, was inspired by generations of my family working with wheels.
Keep exploring Full Circle